May 21, 2011
Pressure Drop Live 2011 - New CD - To be released May 26, 2011
The new Pressure Drop album was recorded live at Dandenong, Victoria in early May 2011. You will be able to purchase the entire CD or download individual mp3 tracks from May 25, 2011.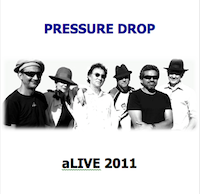 You can sample each track below:
- Babylon is Burning
- Remember Chile
- Different Values
- Peace
- Silent River
- Only You
- Mother Earth
Advance orders and further information are available by ringing 0419422410.